EFP@WORK
As students raised concerned about their internship employment amidst the COVID-19 outbreak, the ALFA team at SoLLaT has decided to organise an event which aims:
To provide career-related training to ensure students successfully gain knowledge and insights of the working world and achieve intended learning outcomes.
To expose students to various career prospects and entrepreneurship-related initiatives.
To connect the School's community to the alumni.
To widen the School's engagement with immediate community, industry, and network.
This programme is designed as a training scheme, where students engage in interactive online sessions with four selected speakers – 3 alumni of the BA EFP programme, and 1 industry player. Four sessions will be conducted for 3 hours each (10 am – 1 pm) between the months of July to September 2020.
Though this programme is mainly catered to the BA EFP students who cannot secure an internship placement, we would love to welcome all interested individuals to join the sessions. We believe that experience is the best teacher and good knowledge should be shared with all. We also hope that those interested to contribute and engage with the School's community would get in touch to offer their brilliant ideas and services. Participation is FREE!
Please find the posters below for all relevant details of the programme. For any enquiries, please contact Mr. Wan Azri Wan Hamid, President of ALFA, at w.azri89@usm.my.
Details of the Programme
| | | |
| --- | --- | --- |
| Dates of Programme | : | July – September 2020 (please refer to posters) |
| Time | : | 10 am – 1 pm |
| Mode | : | Online (WeBex) |
| Fee | : | NO FEE (FREE) |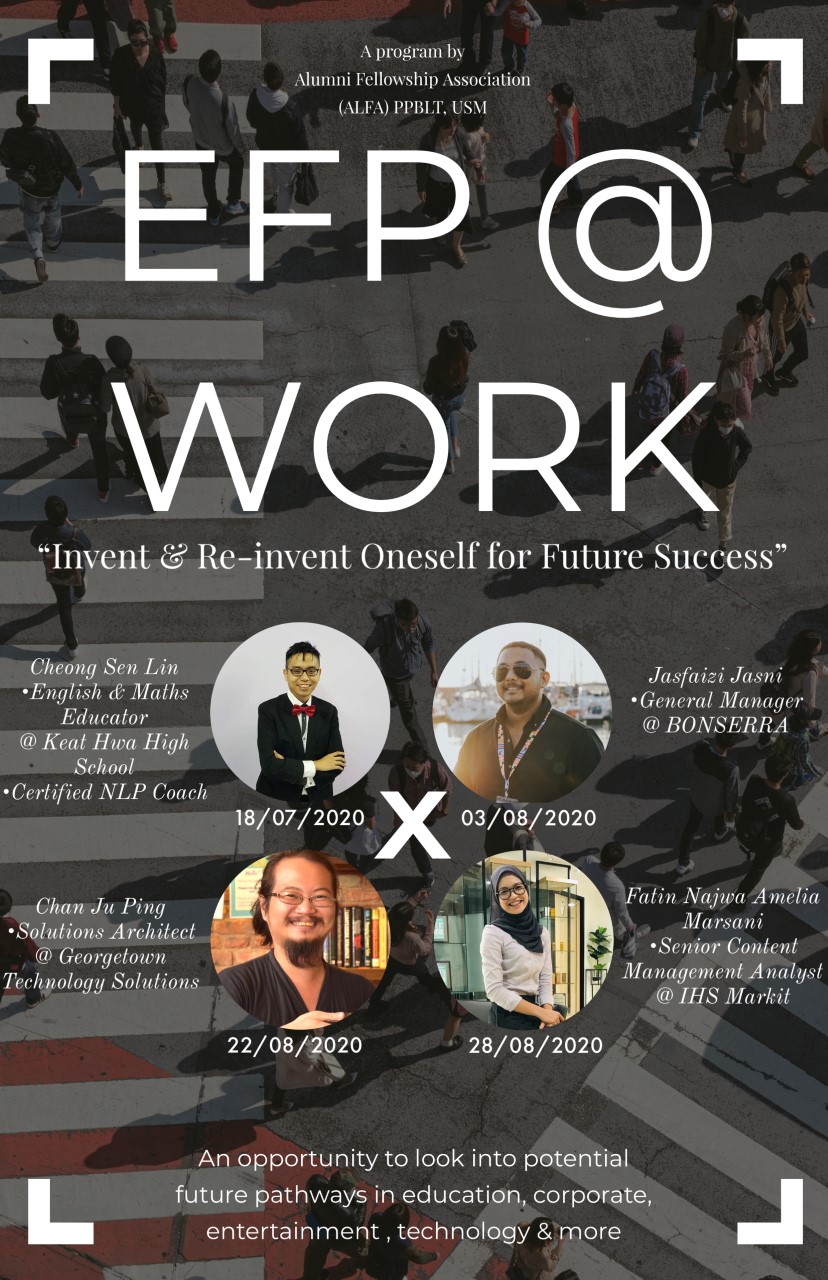 18 JULY 2020
CHEONG SEN LIN (BA EFP ALUMNI / TEACHER / ENTREPRENEUR / COACH)
HOW TO BECOME A TEACHER WITHOUT A TEACHING DEGREE?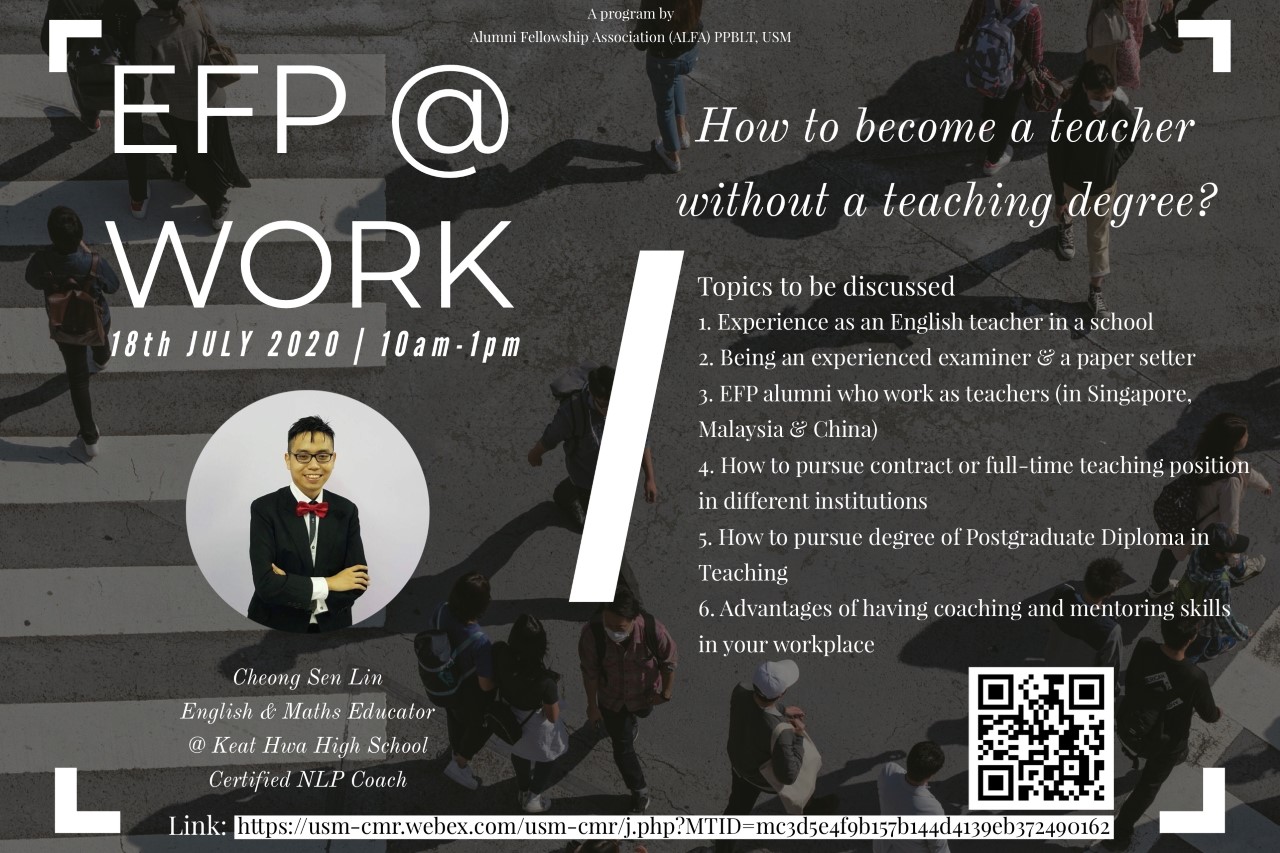 3 AUGUST 2020
JASFAIZI JASNI (BA EFP ALUMNI / INDUSTRY PLAYER / ENTREPRENEUR)
REDISCOVERING YOUR POTENTIAL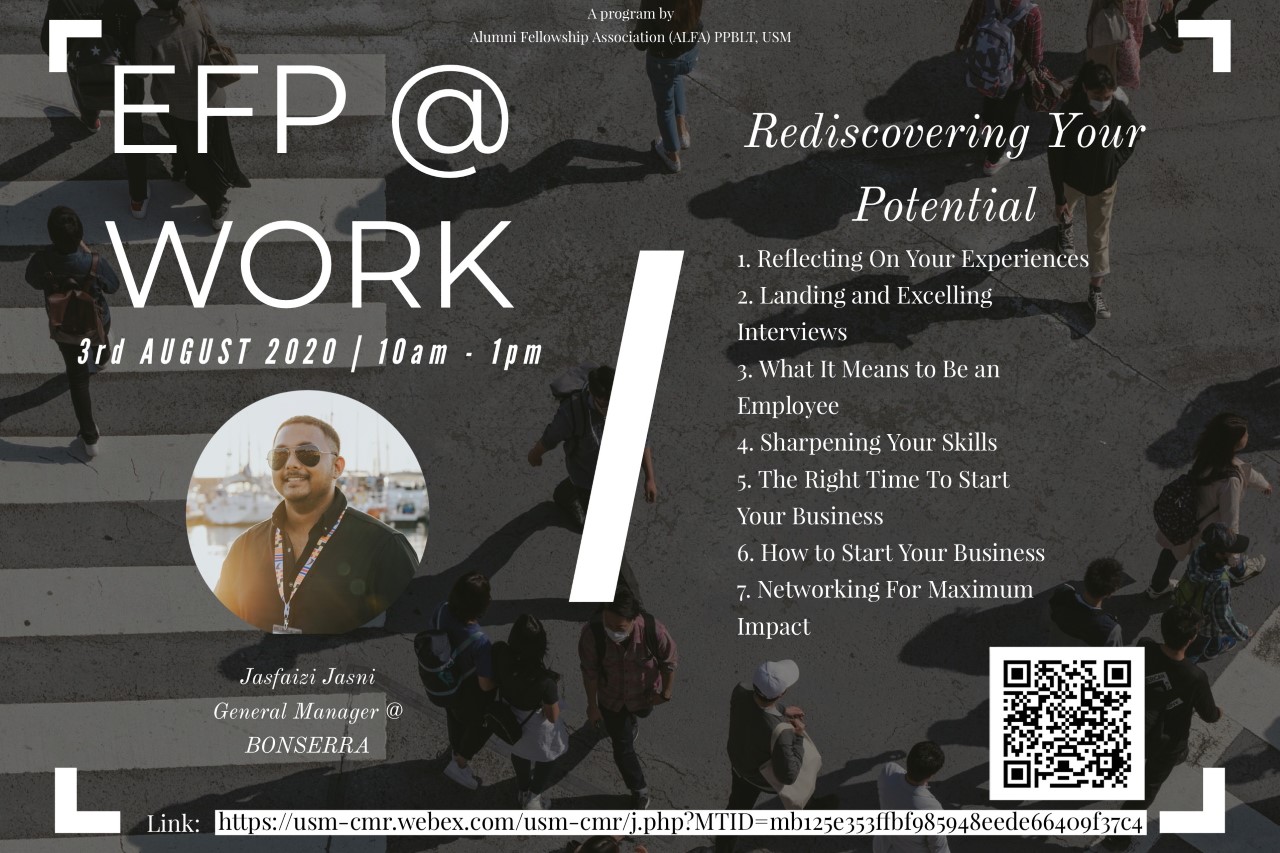 22 AUGUST 2020
CHAN JU PING (SOLLAT'S NETWORK / INDUSTRY PLAYER / ENTREPRENEUR)
REDISCOVERING YOUR POTENTIAL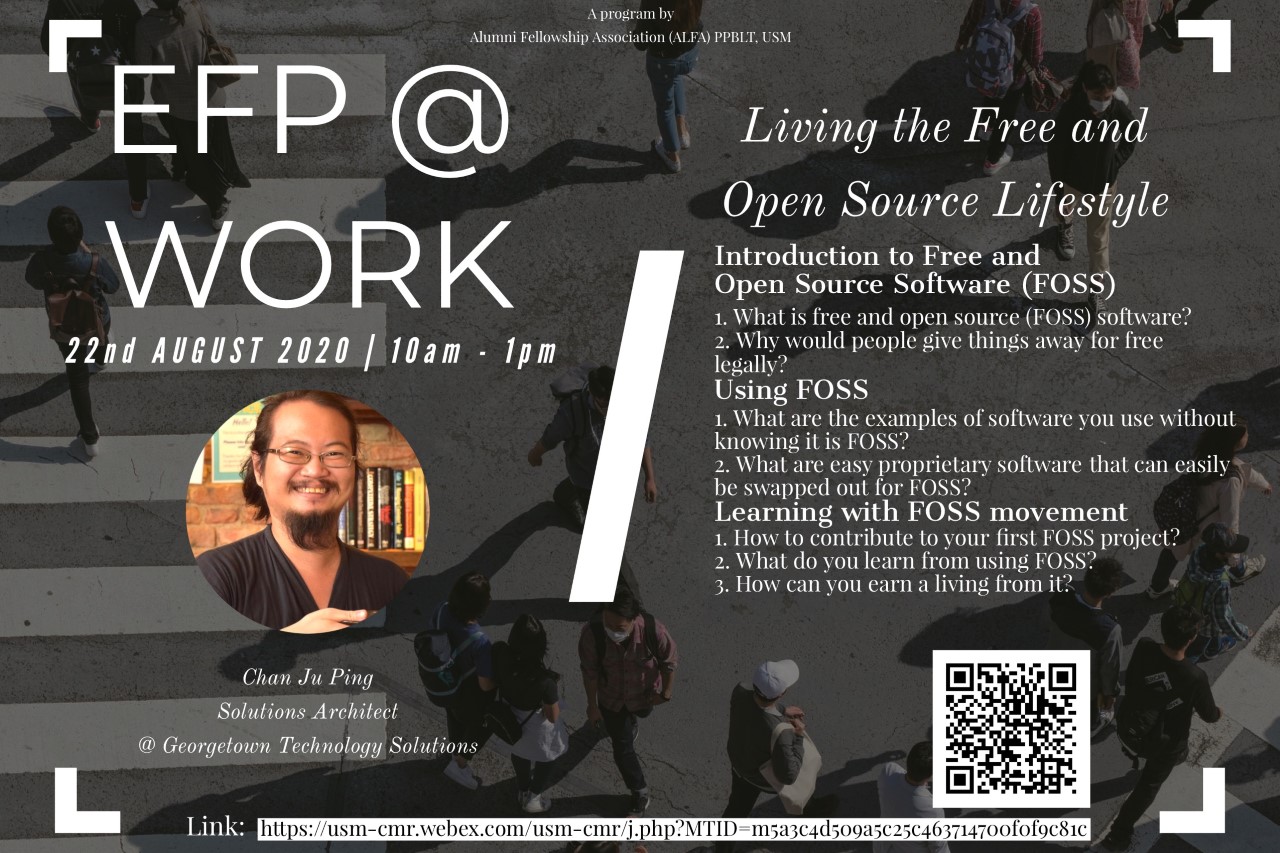 28 AUGUST 2020
FATIN NAJWA AMELIA MARSANI (BA EFP ALUMNI / INDUSTRY PLAYER / CORPORATE)
CORPORATE WORLD: MAKE IT OR BREAK IT?