Undergraduate Studies
BA (Hons) English for Professionals
Mission
The School of Languages, Literacies and Translation is committed in its mission to encourage excellent practice of various languages for sustainable career and individual development.
Vission
Developing excellent language practice for a sustainable future.
Introduction
Bachelor of Arts (Hons) English for Professionals is designed to help undergraduates acquire and develop theoretical principles and practical knowledge necessary for understanding the structure and use of the English language. As an undergraduate, you take courses that promote and support independent and intellectual enquiry and creativity. Attention is also given to interpersonal skills, critical thinking skills and problem-solving abilities to enable you to participate meaningfully in a fast changing international environment.
The range of courses integrate both theoretical content and practical language skills to develop an understanding of the relationship between reading, writing, listening, speaking, text and audience. You will also learn a broad range of professional registers in English that enable you to communicate effectively in a wide range of social and professional contexts.
The all-encompassing nature of Bachelor of Arts (Hons) English for Professionals programme enables you to gain relevant knowledge in language studies and develop language skills for the real world.
BACHELOR OF ARTS (HONS.) PROGRAMME EDUCATIONAL OBJECTIVES (PEO)
PEO1
To produce graduates who are able to critically apply theory to practice.
PEO2
To produce graduates who employ effective and professional oral and written communication skills in various settings.
PEO3
To produce graduates who are creative, innovative, critical and entrepreneurial with teamwork and leadership qualities at the local and international levels.
PEO4
To produce graduates who can work independently as well as in a team with ethics and professionalism.
PEO5
To produce graduates who can adapt themselves to various professional demands.
Career Opportunities
The B.A. (Hons) English for Professionals programme is designed to meet the needs of different careers, including:
Advertising and marketing

Broadcasting and journalism
Consultancy
Copywriter
Editing and publishing
English language teaching and learning
Freelance (proofreading, translation, emcee)
Multimedia
Postgraduate study
Public Relations and Marketing
Tourism and hospitality
Duration of Programme
3 years / 6 semesters
Major Courses Offered
Code

Title

Unit

LET 101

Introduction to World Languages and Multilingualism

4

LET 102

The History and Structure of English

4

LET 103

Introduction to Linguistics and Linguistic Meaning

4

LET 104

The Study of English Grammar

4

LET 105

The Study of English Literature

4

LET 106

Professional Reading

4

LET 107

Writing for Professional Communication

4

LEM 200

Industrial Training Orientation Programme

4

LEM 211

English Discourse

4

LEM 212

Phonetics and Lexis of English

4

LEM 213

Interlanguage Study

4

LEM 214

English in Society

4

LEM 215

Psychology of Language

4

LEM 300

Industrial Training

4

LEM 310

English Discourse in the Professions

4

LEM 311

English for Administration

4

LEM 312

English for Public Relations and Marketing

4

LEM 313

English for Scientific, Technical & Web-based Writing

4

LEM 314

English for the Media

4

LEM 315

English for Law

4

LEM 316

Oral Communication for Social and Occupational Purposes

4

Total

84
Programme Structure: Starts Year 1, Semester 1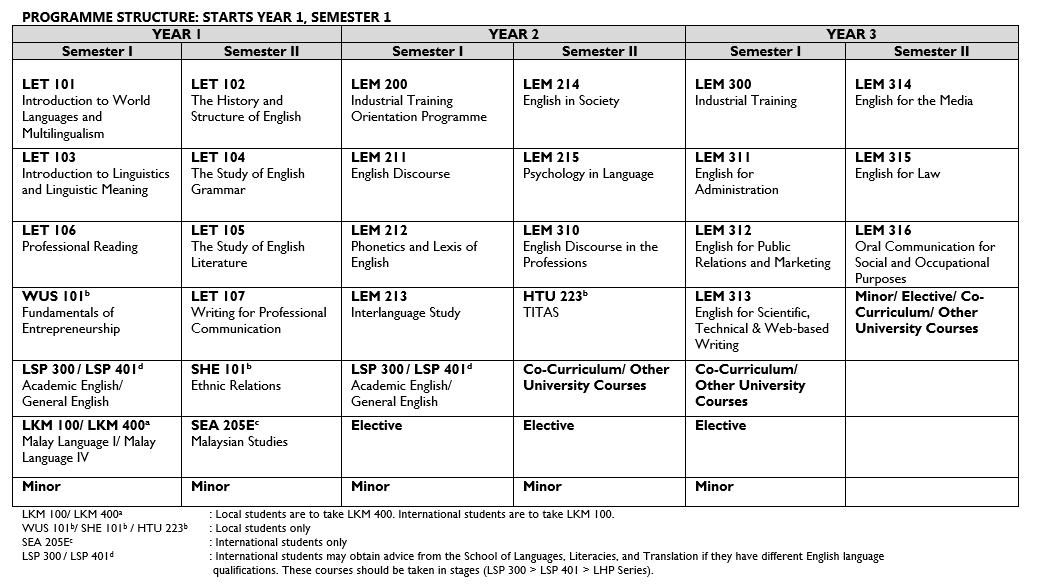 Programme Structure: Starts Year 1, Semester 2